Many of the targums are translated and easily accessible to the English reader, for Targum Neofiti and Targum Pseudo-Jonathan, see
The Aramaic Bible
(Collegeville, Minn.: Liturgical Press), and for
Fragment Targums Paris
and Vaticanus,
see translantion in Klein.

Proto-Palestinian Targumim Traditions
Paul V. M. Flesher has argued that a synoptic comparison of the complete Palestinian Targumim of the Pentateuch––Targum Neofiti (TgN), Pseudo-Jonathan (PsJ), Fragment Targum Paris (FT-P), and Fragment Targum Vatican (FT-V)––reveals the elements within these translation expansions that are the most ancient.[i] Each of the complete Palestinian Targumim has distinct traditions, yet they also share expansion traditions. In short, the expanded passage traditions that are shared by the four complete Palestinian Targumim (TgN, PsJ, FT-P, FT-V) are probably older than any of these witnesses to the common traditions. Based on a series of deductions relative to agreements and disagreements of the four complete witnesses to the Palestinian Targumim, especially in Genesis 49, Numbers 21-24 and Deuteronomy 32-34, the synoptic witness to the proto-Palestinian Targumim can be extended to the traditions upon which TgN and FT-V agree.[ii] Relative to the Palestinian Targumim of Genesis 28-50 Flesher offers a "Proto-Palestinian Targumim" diagram.[iii]
Table W: The Relationship between the Proto-Palestinian Targumim and the Complete Witnesses to the Palestinian Targumim Traditions

In all there are more than 150 Torah passages that could be thought of as containing proto-Palestinian Targumim traditions.
The list below summarizes a synoptic comparison of expanded passages in the Five Books of Moses of the Palestinian Targumim in relation to TgN.[iv] Only TgN passages which are at least fifty percent longer than the MT are considered as expansions here.[v] Parentheses enclose the approximate size of the TgN expansion in relation to MT (e.g., "(2.0X)" means that the TgN expansion has twice as many words as the verse in the MT). Brackets enclose Hebrew verse references when different. References which are underlined signal that the text is a proto-Palestinian Targumim text based on the synoptic criteria explained above. For comparison, selected Targumim Fragments are also listed: C, D, E, Z each refer to Targum Fragments from Cairo Geniza (Flesher, Kahle);[vi] B (Kahle); Br., ms. British Museum Or. 10794 (Klein);[vii] F (Kahle); G (Kahle); J, ms. J.T.S. 605 (Klein); TgNgl, marginal and interlineal glosses to TgN; Onq, Targum Onqelos; †/††, other ms/mss (Flesher).[viii]
Table X: The Synoptic Witnesses to the Proto-Palestinian Targumim Traditions of the Torah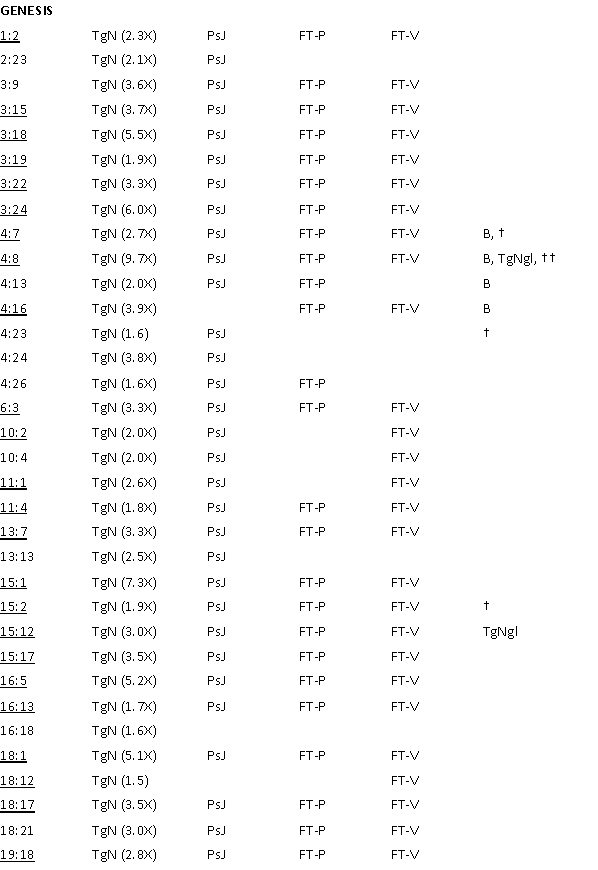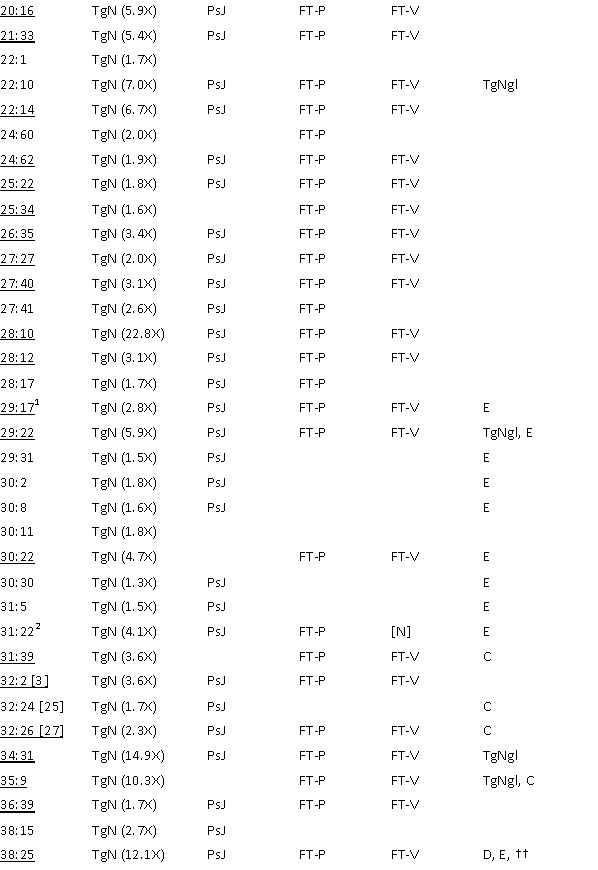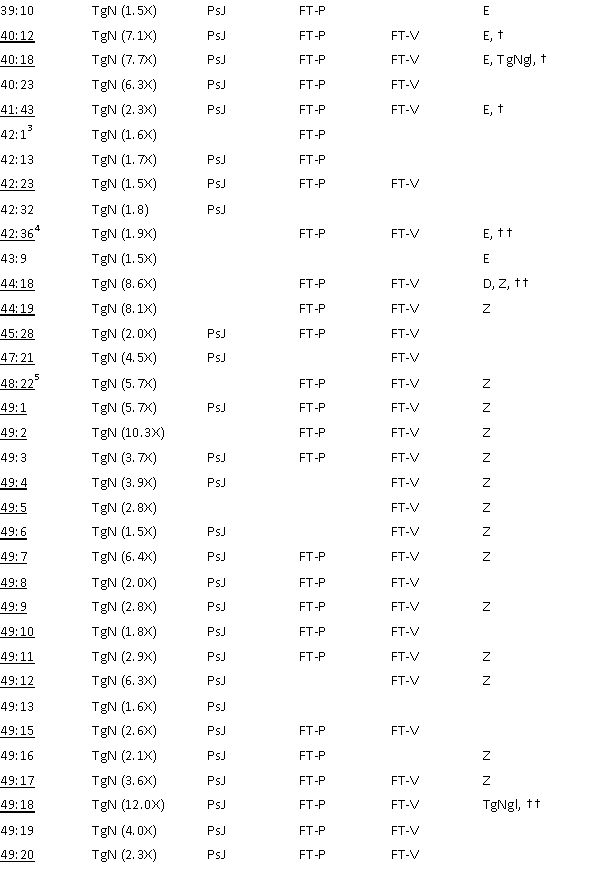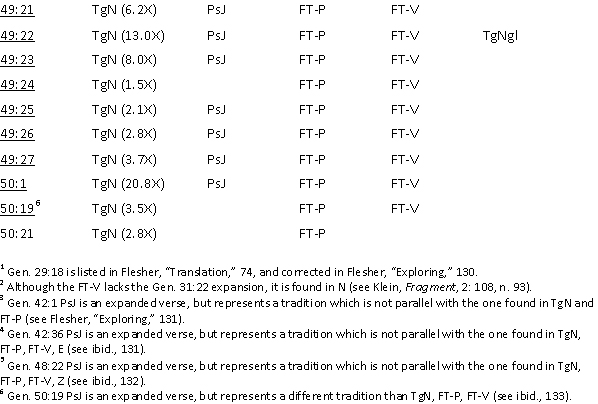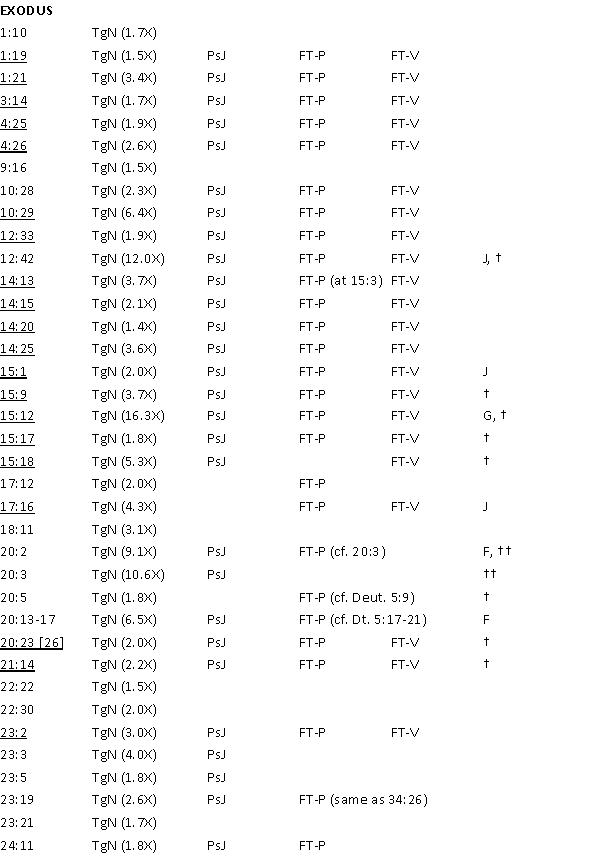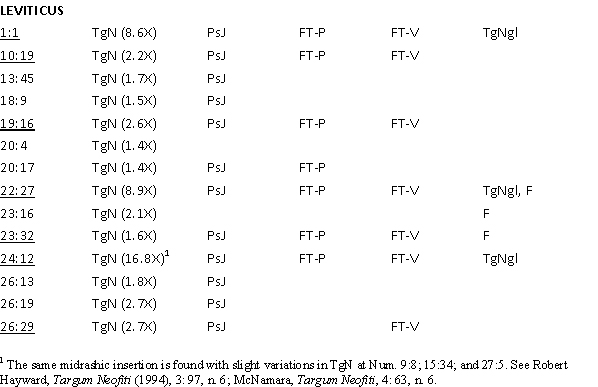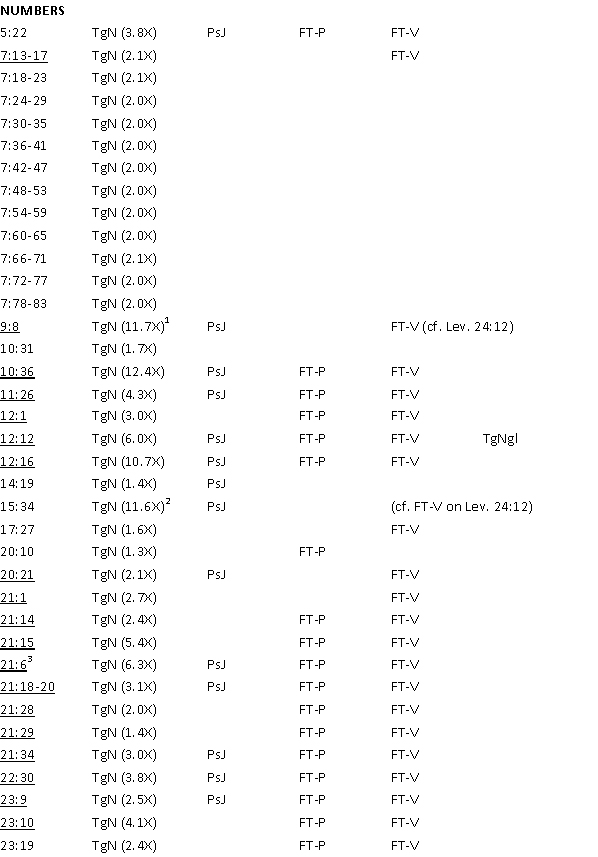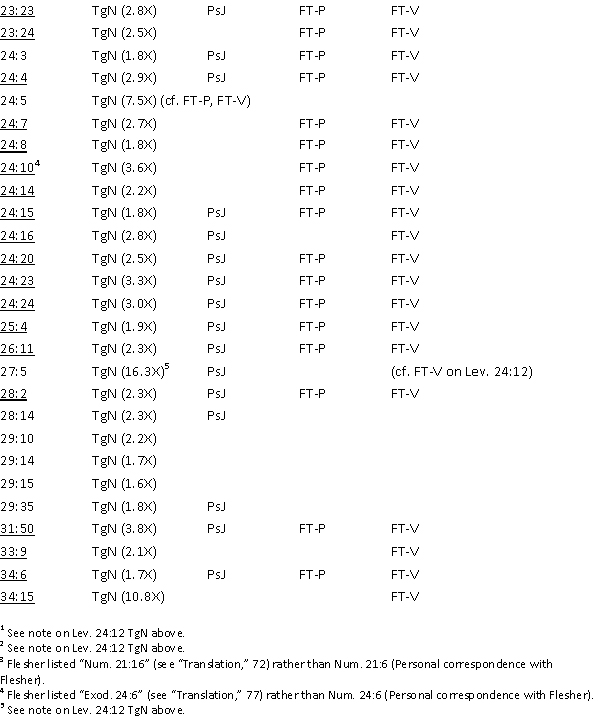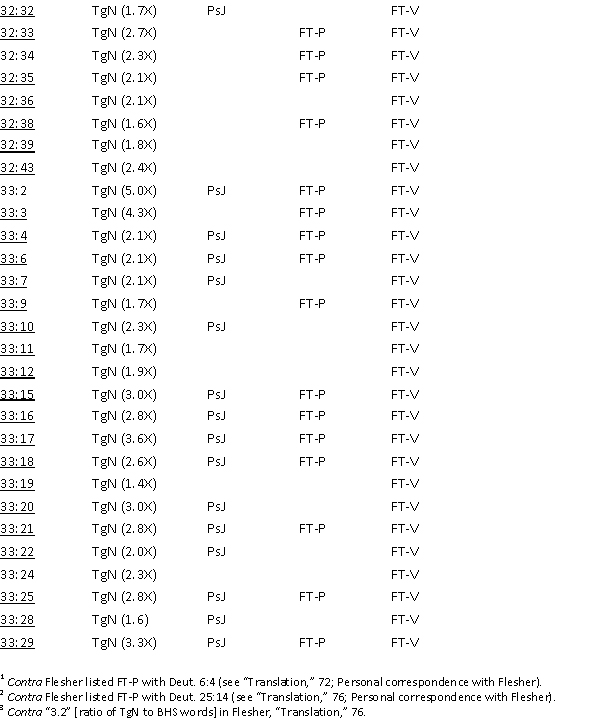 ---